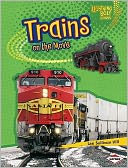 by Lee Sullivan Hill
Lerner Publications
978-0-7613-3921-2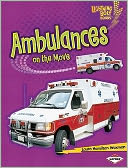 by Laura Hamilton Waxman
Lerner Publications
978-0-7613-3922-9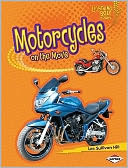 by Lee Sullivan Hill
Lerner Publications
978-0761360261

Review copies from publisher
We reviewed Big Rigs and Fire Trucks On the Move back in
November
, and loved them - as have our patrons. We were happy to receive review copies of these three books in the series, and plan to fill in the ones we are missing as soon as the cumbersome end-of-fiscal-year-budget-process will allow us to order things again!
We don't really have a lot to add to our previous review of this series (we shouldn't say that, because now they won't send us any more). Same quality binding and great format, with exciting fonts, easy text, and big attractive pictures.
Ah, but Lerner, beware the eagle eye and sharp memory of a four-year-old! Miss Ami was test-driving
Ambulances on the Move
with her young son, and he suddenly jumped up and ran to his bookshelf. He returned with this book from Scholastic:

and showed her that the photo on page 9 of that book was the exact same photo as that on page 19 of Waxman's. Nothing wrong with two books using the same stock photos, but THEY WILL KNOW. It's all good, though - he was still excited about the book, and he is, of course, and exceptionally perceptive child.
Another
5 out of 5
for this series, perfect for preschool/beginning readers. For more reviews of great nonfiction books for kids, check out today's post at
Shelf-Employed
(love that blog name!)