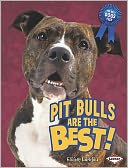 978-07613-60780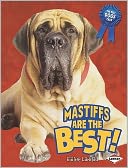 978-07613-60834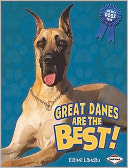 978-07613-60797
all from Lerner, who provided review copies
Have we mentioned how much we absolutely love this series? Yes? Can we say it one more time, then?
There are tons of dog books out there for kids, and plenty of series with breed-specific volumes, but most of those tend to be a little fuzzy on the specific characteristics and needs of each breed. Definitely not so with these! In addition to the individual history of a dog breed, we find out about energy level, personality, and pros and cons of owning each type (mastiffs=slobber). We even read about things like legislation issues, for example in the case of Pit Bulls.
Ah, pitties. We are definitely big dog lovers, and the three featured above are among our favorites. Mastiffs have such sweet big lugs, and the Great Dane on the cover of his book looks just like Miss Ami's "Dude" - who considers himself the mother of every orphaned kitten that comes along. We have a special soft spot for pits, though. Yes, we know, many pits make the news in bad ways, and we don't necessarily want to debate that whole issue. We do want to point out two things:
When Miss Ami was little, German Shepherds were the 'evil' dogs. No responsible parent would let one near their child. Then it was Dobermans, then Dalmatians, etc., etc. In a couple years, we'll be seeing news stories about those dangerous Malteses.
Two patrons JUST had a conversation in front of us (really, as we were typing!) about a problem pit that turned out not to even be a pit. Check out this web site and see if you can do better than us (we never get it right on the first try).
Okay, off the soap box. All dogs, particularly big and strong dogs, do need plenty of exercise and training, and these books are very clear about that. They also give other books and web sites to check out if your readers want more information, as well as basic advice about selecting a new puppy and welcoming it into your home. Be warned about previewing these, though - once you hit the pages of puppy pictures, you are going to want every single one of these dogs! Same great Lerner quality with binding and illustration, they get a
5 out of 5.
More more reviews of nonfiction books for children, check out today's post on Simply Science