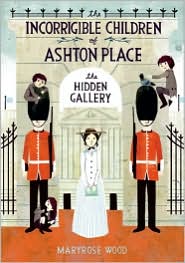 978-006-179112-3
HarperCollins
Copy borrowed from library.
If you haven't read the first book in this series (
The Mysterious Howling
), stop right now and go find it. Some books in series can be read out of order, this is not one of them! In this case, that's a good thing - some series books are so determined to stand on their own, they spend the first several chapters boring you with back story. This book moves too quickly to bore anyone.
If you have read
The Mysterious Howling
, and you enjoyed its quirkiness, then you will definitely enjoy the sequel. The children are their same delightful combination of wolf pup and proper lady and gentleman, Penelope is still the perfect governess for them, and an easy heroine to root for. She is a bit innocent and naive, but smart enough that she catches on to clues not too long after the reader does. Is it always realistic and plausible? Of course not! Hello, the kids were raised by wolves! That's part of the fun of these stories, and we already can't wait for the next one. Recommended for upper elementary, middle or high school libraries - or for a fun family read-aloud (homeschoolers especially will find a plethora of lessons to spin off onto!)
We give this a
5 out of 5
.