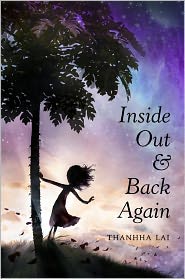 by Thanhha Lai
HarperCollins Publishers
978-0-06-196278-3
Copy provided by publisher for review
No one would believe me but at times I would choose wartime in Saigon over peacetime in Alabama.
For all the ten years of her life, HÀ has only known Saigon: the thrills of its markets, the joy of its traditions, the warmth of her friends close by . . . and the beauty of her very own papaya tree.


But now the Vietnam War has reached her home. HÀ and her family are forced to flee as Saigon falls, and they board a ship headed toward hope. In America, HÀ discovers the foreign world of Alabama: the coldness of its strangers, the dullness of its food, the strange shape of its landscape . . . and the strength of her very own family.


This is the moving story of one girl's year of change, dreams, grief, and healing as she journeys from one country to another, one life to the next.
Told in very short free verse diary-type entries, this is a quick read. As such it may serve as an easy introduction to the issues of immigration, loss, clashing cultures, etc. Sensory descriptions are richly done, making for some vivid impressions in the middle of brief snapshots of events. At times that brevity seemed to mirror Ha's own struggles with the language, and we didn't always feel we were getting the full picture.
This is one where we would have liked to see the secondary characters more developed. We get to see Ha's inner thoughts and feelings, but just catch glimpses of the rest of her family, as well as the people she meets in the United States. The family's sponsor, his wife, and the neighbor who befriends them remained very two-dimensional, and the story would have been much richer if their characters had been made real to us. The struggles of her mother and brothers are only briefly mentioned, and might not sink in with younger readers.
Recommended for upper elementary/middle grades, we give this a
3 out of 5.